Better Angels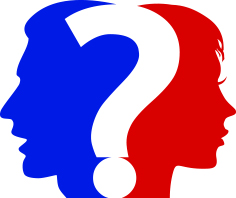 Thank you for your interest in Better Angels. Here's what you need to know:
The Tuesday, March 10, workshop — "Skills Training" — is full.
We hope to offer one or both workshops — "Depolarizing Within" and/or "Skills Training" — again at the end of April. If you would like to be placed on a waiting list, please fill out the form below. Please note that completion of this form is not a guarantee. For your reference, the workshop descriptions are below.
These workshops are FREE thanks to sponsorship/support from Great Rivers United Way, English Lutheran Church, LeaderEthics Wisconsin, the League of Women Voters of the La Crosse Area, Western Technical College, the UWL Department of Political Science & Public Policy, and Joe Heim.
Depolarizing Within

Much of today's polarization is driven by how we talk with like-minded people about those on the other side. Too often, we stereotype, dismiss, or ridicule fellow citizens who support the other political party, its leaders, and its policies.

Sunday, February 23
2:30 to 5:30 p.m.

English Lutheran Church
1509 King St., La Crosse

Skills Training

At this workshop, you will: learn what it takes to have constructive, non-polarizing conversations; get a chance to practice these conversations; and be motivated to have these conversations with people in your social network.

Tuesday, March 10
2:30 to 5:00 p.m.

Western Technical College – Lunda Center
319 7th St. N., La Crosse

WORKSHOP FULL
Better Angels Interest Form