Campaign Kick-Off 2021
It's campaign kick-off time!
We're so sorry we aren't able to celebrate in person this year. 
For those who reserved breakfast, we hope you enjoy! Please join us in thanking our Breakfast sponsors, who made it possible for us to feed you for just $1. They are listed on the bottom of this page.
In lieu of an in-person program, we encourage you to view the following videos:
The first is our 2021-22 campaign video — thank you to WXOW 19 for donating the time and talent to make this video possible.
The second is a short virtual program featuring Development Director Katie Sparks and the heads of our "Campaign Crew," Joe and Tracy Endrizzi.
The last is an invitation from the Endrizzi Family to attend their United We Chalk event on Sunday, September 26. Space is limited — register today!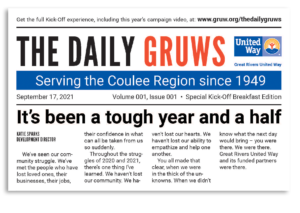 You can also learn more about what we accomplished in 2020, and what we have planned for 2022, including our campaign goal, in a publication designed just for kick-off: The Daily GRUWs (pdf)!
Thank you, event sponsors: Edward Jones Financial Advisor Peter Condon, AAMS; Gundersen Health System; Home Federal Savings Bank; Klauke Investments & Insurance Services; The Weber Group; Wieser Brothers General Contractors; and WXOW 19.