Meet Chris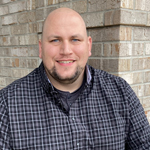 My name is Chris Burks. I am passionate about making an impact on the youth and families in our community, whether it was volunteering with Big Brothers, Big Sisters when I was in college; to coaching youth athletes; to becoming a foster parent – all of which led me to becoming a Community Health Worker (CHW) for the La Crosse Area Family YMCA. It was one of the most life-changing experiences I've had. Helping our most vulnerable community members overcome barriers of health is extremely rewarding. This passion led me to the Great Rivers HUB, where I believe I can have a bigger impact on our community and spread the CHW workforce through out the state.
15 Questions for Chris
What are you most excited about in your new position? Being able to help impact the CHW workforce in our community and the state.
Favorite color? Carolina Blue
Number of children? 4 – ages 12, 4, 3, and 6 months old. They definitely keep me on my toes with very little quite time.
Least favorite household chore? Mowing the lawn and shoveling snow are a tie.
Latest tidbit you've learned about United Way? I have been amazed with all the neat programs we offer.
Favorite recreational activity? Sports (Hockey) and playing music (drums)
Genre of music? I have a very wide range of musical tastes – my favorites are rock, hip hop, and musicals.
Most likely to order on a menu? Cheese curds – I always order them when available.
Favorite movie? Any of the Harry Potter movies.
Most looking forward to in the first United Way campaign? Just seeing our community come together to support each other.
Role model? My Grandpa – he set an amazing example of how to support and love your family.
Favorite place to visit? Anna Maria Island – we went there as a family for Christmas last year.
Guilty pleasure? Musical soundtracks
Memorable moment in the new job thus far? Getting to hear Community Health Workers share their stories of all the amazing work they're doing in the community.
Favorite thing about our community? The way we come together to try and help others in our community.