Board of Directors
Officers
Julie Reynertson
Board Chair
Optum Serve
Isaac Zickert
1st Vice Chair
Inland Packaging
Randy Nelson
Past Chair
Community Volunteer
Bobbi Schoh
Treasurer
Chair, Finance Committee
La Crosse Technical Consultants, Inc.
Board Members
Todd Antony
School District of Onalaska
Kim Bauer
Chair, HR Committee
Altra Federal Credit Union
Holly Blanchard
Trane Technologies
Carolyn Colleen Bostrack
FIERCE Network
Julie Christensen
Western Technical College
Kayleigh Day
Chair, Compass Committee
American Lung Association
Bryan Erdmann
Gundersen Health System
Andrew Fjerstad
Organic Valley
Mike Klauke
Chair, Marketing & Fund Development Committee
Klauke Investments & Insurance Services
Angela Newman
Chair, Fund Distribution Steering Committee
Kwik Trip
Josh Oeltjen
Festival Foods
Tonya Wagner
Viterbo University
Brad Weber
Mayo Clinic Health System
Nick West
Gillette Pepsi-Cola Companies
2023-24 Campaign Co-Chairs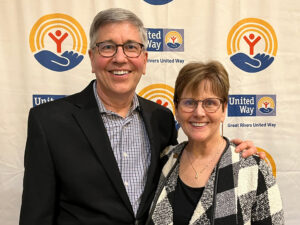 Chuck & LuAnn Roth
Our committees welcome (and succeed because of!) community passion and expertise. The staff member(s) working with each committee would be happy to tell you more. Please email info@gruw.org.