United We Chalk

Now a take-home event due to inclement weather on our scheduled date!
Voting is closed, but entries may still be viewed on our online voting site.
United We Chalk is a family-friendly, all-abilities chalk art competition. This year's event is presented by artPOP. Sign up to participate, or support our artists (and GRUW's 51 partner programs!) with your votes.
Due to inclement weather, United We Chalk is going DIY! Register, pick up supplies at Great Rivers United Way or artPOP, and compete on your own. Pictures of your team and your entry are due June 20, and online voting will take place June 22-24. There's still three $200 cash prizes up for grabs, plus three "best of" trophies, decided by local artists Ellen Kallies and Joanie Gundersen. Details below…
Prizes
People's Choice cash prizes — $200 each

Beginner: Liam's Birthday Family Project
Intermediate: Brighter Daze
Advanced: Tonya Berman

Juried Awards — trophies, as chosen by judges Ellen Kallies and Joanie Gundersen:

Best Use of Theme: Brighter Daze
Best Use of Special Effects: Liam's Birthday Family Project
Best Use of Color: Tonya Berman
Register as an individual or team of 2-5. Cost to compete is $40 and includes:
1 box of Crayola 48-count Washable Sidewalk Chalk
1 brush, bucket, and sponge
1 event t-shirt, while supplies last — additional shirts available for $10 each
T-shirts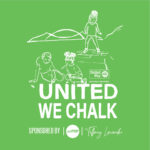 Registration includes one limited edition event t-shirt (Adult sizes S-2XL) featuring a design donated by local artist Tiffany Lavendar. Our registration form allows for the purchases of up to four additional shirts. Shirts sales are while supplies/sizes last.
Rules
Artists may use the supplies included with registration, plus any non-permanent art supplies, painters tape, tools, etc. they have at home. Entries may be any size, but must be created on a paved, ground surface outdoors, or — to protect from the elements — a cement garage floor. At least one team picture and at least 2-5 photos of your entry (full shots and optional close-ups) must be submitted to aolson@gruw.org via email by Monday, June 20, at 4:00 p.m., for online voting.
Voting
People's Choice winners will be determined by online voting. One dollar = one vote. Online voting will take place for 48 hours starting Wednesday, June 22, at 12:00 p.m., through Friday, June 24, at 12:00 p.m. Winners will be announced on Friday, June 24, at 2:00 p.m., live on Great Rivers United Way's Facebook page.
Great Rivers United Way will promote online voting via local news outlets and our social media accounts, and teams will receive instructions on how to share their voting pages with their families and friends to increase their chances of winning our People's Choice prizes, as well as raising more funds for local non-profit programming. Juried award winners will also be announced on June 24.
Voting is closed, but entries may still be viewed on our online voting site.
Questions? Call or email Adrianne at (608) 796-1400, ext. 106, or aolson@gruw.org.