United We Rock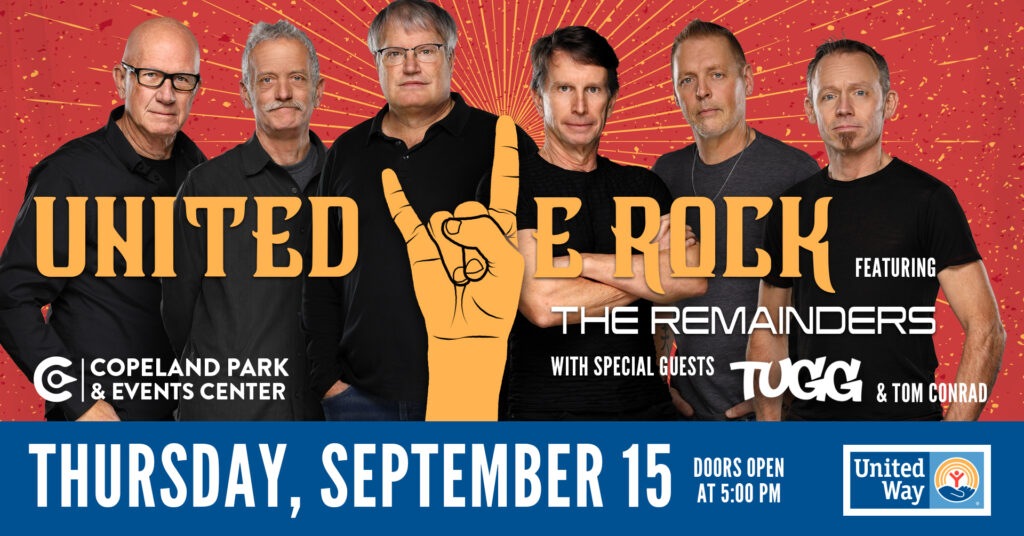 Great Rivers United Way is officially kicking off its 2022-23 fundraising campaign with a FREE community concert featuring The Remainders with special guests TUGG and Tom Conrad.
Please join us at United We Rock!
Thursday, September 15
Copeland Park & Events Center
1130 Copeland Park Dr., La Crosse
Doors open at 5:00 p.m. – set times:
• Tom Conrad: 5:00 p.m.
• TUGG: 6:00 p.m.
• The Remainders: 7:30 p.m.
FREE to attend with LOTS of opportunities to help Great Rivers United Way raise funds for its 51 partner programs!
Thank you to our sponsors:
• Altra Federal Credit Union
• artPOP
• Campaign-Co Chairs Andy & Linda Temte
• Copeland Park & Events Center
• Coulee Bank
• Home Federal Savings Bank
• Interstate Sound
• La Crosse Loggers
• Mayo Clinic Health System
• Merchants Bank
• Trust Point
• Xcel Energy
Special thanks to The Remainders, TUGG, and Tom Conrad
Help us spread the word!
• Respond to our Facebook event as Interested/Going and invite your friends!
• Download and print (PDFs): 8.5×11″ flyer or 11×17″ poster
• Request a professionally printed poster for your business