Meet Anne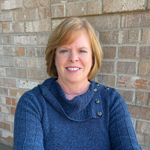 Anne Paape is new to Great Rivers United Way, but she is very familiar with the inspiring success stories of volunteers at work in our area communities. Anne was the News Director at WKBT News 8 Now for 30 years, in addition to anchoring newscasts and reporting earlier in her career at both WKBT and WXOW. She's planned local news coverage for everything from Presidential visits to flooding clean-up efforts and school fundraisers. For some, she's simply known as the "Pet of the Week lady" because of the hundreds of feature stories she's done on animals at the Coulee Region Humane Society in need of a new home.
As the Community Engagement Coordinator here at Great Rivers United Way, she's excited about the opportunity to help support community programs that help make this area a great place to live, work, and call home.
15 Questions for Anne
What are you most excited about in your new position? I'm really excited to grow the Read to Success program so we can recruit more volunteers to work with more third grade readers in area schools. It's a tremendous program!
Favorite color? Blue.
Number of children? One son, Josh. He's getting married in August and we're thrilled to add fiancé Erin to our family.
Least favorite household chore? Vacuuming the dog hair off the stairs. Ugh.
Latest tidbit you've learned about United Way? We get to share our office building with an adorable sheepadoodle puppy who loves visitors. I'm a regular!
Favorite recreational activity? I love to garden and grow both vegetables and flowers.
Genre of music? Not really a genre, but I'm a big U2 fan and really miss Tom Petty.
Most likely to order on a menu? Anything with blue cheese.
Favorite movie? The African Queen. Katharine Hepburn was fierce.
Most looking forward to in the first United Way campaign? Being part of a team focused on problem solving.
Role model? My grandmother. She was the most accepting and kindest person I've ever known.
Favorite place to visit? Italy. I've been lucky enough to visit there twice and look forward to a return trip at some point.
Guilty pleasure? Going back to sleep on weekends after getting up to feed the dogs. For the record it's a rare guilty pleasure.
Memorable moment in the new job thus far? I got to sit in on a Read to Success tutoring session and experience the strong connection between one of our tutoring volunteers and a third grade reader. It made my heart happy.
Favorite thing about our community? I'm continually amazed by how willing people are to help when they know there's a need. It's something very special about this area.