Meet Autumn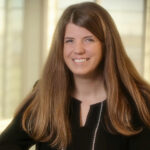 Hello, I am Autumn Grooms, Great Rivers United Way's new Development Director. In my position, I will oversee fundraising efforts, develop a grant program, and work to increase brand awareness in the community through relationships with current and potential sponsors as well as individual donors.
I am excited to return to Wisconsin and be working for Great Rivers United Way. I believe collaborative problem-solving can lead to innovative and effective solutions. The work GRUW does demonstrates that it takes our community working together to make lasting change.
I have worked in the public and nonprofit sectors for 13 years managing human services programs and writing and administering grants. Most recently, I was the Community Services Manager for the City of El Mirage, Ariz., leading a team that delivered and administered the City's grants program, as well as Homelessness Services, Transit Services, Special Events, and the El Mirage Senior Center. During my time in Arizona, I was fortunate to develop relationships with public and nonprofit partners that allowed for additional opportunities for the City's residents.
Before moving to Arizona in 2017, I worked in grants and communications for the Sparta Area School District and YWCA La Crosse. I began my career as a reporter with the La Crosse Tribune. I am also currently an adjunct professor with Grand Canyon University, where I teach public administration courses.
An Onalaska native, I graduated from West Chester University, with a Doctor of Public Administration. I also graduated from the University of Wisconsin-Milwaukee, earning a master's degree in cultural foundations of education, and the University of Wisconsin-Oshkosh, earning a bachelor's degree in human services.
15 Questions for Autumn
What are you most excited about in your new position? Finding grant opportunities that will help to strengthen partnerships and collaboration with our Great Rivers United Way partners.
Favorite color? Green
Number of children? One, Vincent, a junior at Onalaska High School
Least favorite household chore? Folding clothes – I don't think the pile ever ends.
Latest tidbit you've learned about United Way? GRUW has partnered with UW-La Crosse, Viterbo, and Western Technical College on an amazing website for those looking to be connected with volunteer opportunities: Ugetconnected, www.ugetconnected.org. Right now, there are holiday opportunities, as well as long-term opportunities, available. It's definitely worth checking out for those who want to get involved in the community.
Favorite recreational activity? Hiking
Genre of music? Folk Rock
Most likely to order on a menu? If it's on the menu, Taco Pizza.
Favorite movie? "Weekend at Bernies"
Most looking forward to the first United Way campaign? Meeting the campaign coordinators who do so much for GRUW at their organizations.  
Role model? My parents. They taught me to work hard and always be kind.
Favorite place to visit? Phoenix. The city was at first a place I loved to visit, then it became a second home.
Guilty pleasure? I'm not sure I have one.
Memorable moment in the new job thus far? The Kick-Off Breakfast. It was wonderful to see so many GRUW supporters in attendance.
Favorite thing about our community? It's hard to choose one favorite thing about our community – it's welcoming, beautiful, and there is a sense of community and collaboration that is difficult to duplicate. Having left and returned, our community also feels like home no matter if you are visiting for a weekend or longer or staying long-term. People here care about one another and want to help their friends and neighbors, even if they have never met.