Meet Charity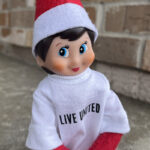 Hello! My name is Charity Givesalot, and I'm the newest member of Great Rivers United Way's fundraising team. I came to GRUW from the North Pole, where I worked as a Scout Elf (aka an Elf on the Shelf). I'm very curious and love to learn. There's nothing I like more than helping!
15 Questions for Charity
What are you most excited about in your new position? I look forward to learning more about our communities' needs and the many ways GRUW and its partner agencies are meeting them.
Favorite color? Red.
Number of children? None, but I really like kids!
Least favorite household chore? Cleaning up after myself.
Latest tidbit you've learned about United Way? Great Rivers United Way funds 51 programs offered by 27 agency partners. I hope to visit them all soon!
Favorite recreational activity? Travel.
Genre of music? Holiday.
Most likely to order on a menu? Dessert! I have a sweet tooth.
Favorite movie? Elf starring Will Ferrell (even though it's not very realistic).
Most looking forward to in your first United Way campaign? I get to lead this year's Giving Tuesday efforts! You can learn more at www.gruw.org/givingtuesday!
Role model? Santa – he's the most giving person I know.
Favorite place to visit? Home! The North Pole.
Guilty pleasure? Getting into mischief.
Memorable moment in the new job thus far? My colleagues gifted me an XXXXXS LIVE UNITED t-shirt on my first day. I love it!
Favorite thing about our community? I like how generous people are. When they learn about an issue, they don't hesitate to help solve it with gifts of time and treasure!