Meet Chuck & LuAnn Roth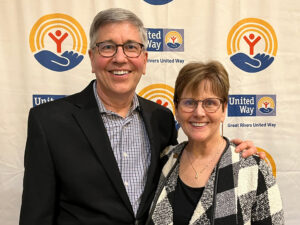 Great Rivers United Way announces 2023-24 Campaign Co-Chairs
Great Rivers United Way is pleased to announce that Chuck and LuAnn Roth will serve as the nonprofit organization's 2022-23 Campaign Co-Chairs.
Originally from Janesville, Chuck and LuAnn moved to the La Crosse area in 1988 when Chuck became Vice President and General Manager of WXOW-TV in La Crosse and WQOW-TV in Eau Claire. LuAnn worked as a physical therapist at the time.
The Roths have a long history of volunteering for their local United Ways.
Prior to moving to La Crosse, Chuck and LuAnn lived in Eau Claire, where Chuck served on committees for the Eau Claire Area United Way. Once established in La Crosse, Chuck served on the Board of Directors for what was then known as the United Way of the La Crosse Area from 1992 to 1996. He was elected Board President 1995. More recently, Chuck and LuAnn served on Great Rivers United Way's Campaign Cabinet in 2018 and 2019.
"Now that we are both retired, we felt this was the opportune time to serve as Campaign Co-Chairs and to do our part in supporting our United Way. We were honored to be asked and happy to say yes," shared the Roths.
As Campaign Co-Chairs, Chuck and LuAnn will advocate in their personal and professional circles, as well as out in the community, to help raise funds for Great Rivers United Way. They will serve as a public face at events and in the media.
When asked what they were most looking forward to in the next year, Chuck and LuAnn said sharing the positive United Way story.
"GRUW serves such an important role in our community, and we are proud to support its purpose and mission.."
Great Rivers United Way accepts donations year-round at www.gruw.org/waystogive. Donations made by January 31, 2024, will be granted to local nonprofit programming throughout that year.