Meet Lindsey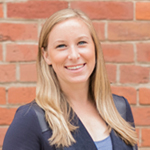 Hello! I am quickly approaching month two at Great Rivers United Way! I am the new Great Rivers Hub Director for Great Rivers United Way. My position is charged with planning, implementation, and maintenance of the Pathways Community Hub Model. The Hub is a collaborative and innovative systems change that aims to bridge the gaps that exist between healthcare and social services by addressing social determinants of health through Community Care Coordination. I am honored to be leading this initiative!
I graduated from UW-La Crosse with Community Health Education and began working immediately after graduation at Family & Children's Center with at-risk youth. There I progressed to a program coordinator, which allowed me the opportunity to gain an understanding for social services within the community. I then moved to the American Cancer Society, where I was involved with fundraising, community engagement and event planning. That position allowed me to really understand the pulse of the different communities in the region. From La Crosse to Viroqua to Tomah and beyond, I enjoyed learning the personalities of each community.
Meanwhile, I was pursuing my Masters in Public Health with an emphasis in Health Policy and Administration from University of Illinois at Chicago. I actually just graduated in May! All of my experiences in social services and community engagement combined with my public health education background have really laid the ground work for me to work with the Hub! I am beyond excited to launch… more information to come!
On a different note, I will only be Lindsey Purl for a few more weeks. I will be getting married in June, and my name will change to Lindsey Rutten. Seems a little weird to be typing that…
What are you most excited about in your new position? The opportunity to be part of a system change, to get the Hub launched and to be part of something that has the potential to significantly improve the quality of life of others!
Favorite color? Blue.
Number of children? Zero, zip, zilch. I have 5 chickens, though!
Least favorite household chore? Folding laundry. Yuck! There are too many other things to do in the day!
Latest tidbit you've learned about United Way? I am still constantly learning about United Way, but honestly have been so wrapped up in learning about the Hub that I can't think of anything not Hub-related for this answer!
Favorite recreational activity? Exercising or anything outdoors! I enjoy being active but especially enjoy running!
Genre of music? I listen to all sorts of music… anything except for country!
Most likely to order on a menu? I am a vegetarian, and I don't consume dairy, so I am most likely to order something that needs to be edited on the menu. Yes… I am THAT person who has to make the order difficult. In my defense, Wisconsin could learn to ease up on putting cheese on EVERYTHING.
Favorite book? I can't name just one. My favorite type of book does a good job of pulling you in to a different world and usually contains a frustrating amount of cliff hangers.
Most looking forward to in the first United Way campaign? Learning what it's all about!
Role model? I have many but certainly my parents have been great role models and supports!
Favorite place to visit? Ireland! I'll be heading there for the fifth time in June… this time to get married! Otherwise, I enjoy visiting Chicago, where my family is and where I grew up.
Guilty pleasure? Why feel guilty about things that we enjoy (as long as it isn't at the cost of anyone else)? Can't think of anything I feel guilty about enjoying 🙂
Memorable moment in the new job thus far? Filling out this survey! But on a serious note, I have had the opportunity to be constantly learning about the new Hub system since I began. Each step has been memorable and exciting to me.
Favorite thing about our community? The collaborative nature. This community is great at coming together and uniting in order to better the community. I love the forward thinking and momentum of the community in general. Additionally, I enjoy the beautiful environment that surrounds us and the many ways to be active outdoors!